You have traveled to various parts of the world or your country, part of your inspiration has been the other travel blogs that have helped you make your dream come true, and now you want to do the same.
You want to write your stories and tell your experiences to help people go out and discover the world while making money in the process.
What you are looking for is to create a blog and in this article, you will learn how to create a travel blog in 5 steps.
In this article you will find all the summarized information on how to create a blog in five simple steps, however, I will try to detail them as much as possible and explain it with pebbles and sticks so that you do not have problems but I remind you that if you only want to create a travel blog to share your experiences in journal form, then this article may not be the one for you.
You can create free blogs in WordPress or Blogger / Blogspot but the difference between a free hosted blog and a professional one is a lot and here what I am looking for is to create a blog that will eventually become your profession and business.
So are you ready?
Step # 1 to create a travel blog – Platform
There are several platforms to create a web page or travel blog, for the blog world the most popular are WordPress and Blogspot. For websites the most famous for people who have no knowledge of design or programming is Weebly or Wix, which I will not address as it is not the purpose of this article.
But if you want to play in the big leagues and really create a professional blog, then my recommendation to create a travel blog or website is without hesitation: WordPress
WordPress is one of the friendliest and most robust platforms, in terms of capacity, that exist. Hundreds of blogs, magazines, newspapers of international stature are mounted on WordPress. (Some examples: CNN, TED, TIME, UPS, etc. )
Blogspot / Blogger are platforms specialized in blogs but due to their objective being daily style blogs, what can be done or modified in them is extremely limited.
Now, WordPress has 2 versions, WordPress .COM and WordPress .ORG
The difference? Both are free but in .COM they give you the hosting, which I will talk about later, and in .ORG you have to put the hosting of all the files.
The version where they give you the hosting (.COM), for the same reason they give you, is very limited since you have to use exclusively the designs and tools that they allow you and you cannot install anything external.
On the other hand, the version that you install in your hosting gives you the freedom to create the designs you want, install tools, programs, upload the number of files, photos, etc., that you want (as long as your host allows it ).
So to create your travel blog you will use this version (.ORG), the one that you have control of everything that is installed and seen on your blog, this will give you the freedom of creation you need.
Step # 2 to create a travel blog – Name your blog
The name is perhaps one of the most important parts when creating your blog, it is the one that will define who you are and what you do.
There are many ways to choose your name, it can be your own name " Juanito Álvarez " (to give an example) or things like " Aventuras de Juanito " or " Travel with Juanito ". You can use more general things like "Traveling and eating" or things that don't make sense but for you have a lot of meaning like: " Red carpets ".
Regardless of the name you choose, my 3 general recommendations are:
1. Name of places. Unless you are 100% convinced that your travel blog is going to be from a specific place, avoid using names like: "Adventures in Asia" or "Traveling in Italy".I have known many bloggers who after years of writing about a specific place are limited to telling stories from other places or working with some companies for their brand.
2. Name that mentions your current state. When you create your travel blog, you may find yourself single, childless, and 25 years old, but what will happen later? Think about your blog in the future and your name may limit you, you will not always be in that situation and if you want to be consistent with the brand, avoid using " Adventures of a 25-year-old boy around the world " or " Traveling the world single " to unless you just want to write during that stage of your life.
3. Google your name. Do a quick search on Google and Google News, search on Facebook, Twitter, and all social networks that appear when someone searches for the future name of your blog. You would not like to be associated with bad news. You would be surprised to know that perhaps there is a serial killer called " Juanito Álvarez " and that your blog is called which is not going to be the best advertisement.
Since you have a name option, it is time to register and obtain your domain.
Step # 3 to create a travel blog – Hosting and Domain
First we are going to talk about the domain, that is, the: www.tublogname.com
This comment may hurt the sensibilities of other bloggers but it is a reality. The difference between a professional blog and a travel journal is precisely the investment you are willing to make in it.
It is not the same to have your own domain www.AventurasdeJuanito.com as " Aventurasdejuanito.wordpress.com " or " Aventurasdejuanito.blogspot.com "
The 15 dollars or less a year (the first year is free if you buy the hosting) that it costs you to register your domain make a very big difference in the image of your blog before other people and companies. Buying your domain is a sign that you are taking the issue seriously and are willing to invest more than just time.
If you are going to a job interview in a large corporation for an executive position, I assure you that you will even buy a new suit to make a good first impression, the same here, and I am talking about only $ 15 a year.
It is true that appearance has little or nothing to do with how professional you are as a person or the quality of your work, but the domain of your blog is the first impression you will give the reader, so how would some say: "Put your money where is your mouth "
Now we are going to talk about hosting.
All the information you post has to be stored somewhere and that storage costs. As I mentioned at the beginning, some blogging platforms like Blogspot / Blogger or WordPress.COM provide it to you for free, but the difference between having your own hosting and using a free one is a lot.
The simple fact of designing your blog, in the free version your blog can only use some preloaded designs and nothing else. So if you want to change the color or move a section of place you will not be able to.
I'll put it another way.
Both platforms are tools, it will depend on you to use them and the benefit that you are going to get. Imagine that you are building a car, in both versions they will give you all the necessary tools and materials to build a fully functional car, however, the free version will only give you enough materials to build a VW Beetle (known in Mexico as Vocho) and in the paid version they give you the tools to build a Lamborghini Veneno.
Both are cars and they work perfectly since they fulfill their objective. It will be up to you to build them but no matter how much effort or effort you put in, if you have limited tools you will never be able to transform that Vocho into a Lamborghini Veneno unless you pay a little.
So, if you have already decided to make the small investment and go for the Lamborghini, you will have to buy your domain, hosting, and install WordPress, which is extremely simple.
First, access Bluehost, which is the service I use to host my blog and it is one of the most recognized worldwide. I have been working with them since 2010, I have never had a problem, and on occasions where some very specialized detail has arisen that I cannot solve their technical service by chat or email, they solve it immediately.
On the Bluehost home page select where it says " Get started now "
3 packages will appear: Basic, Plus and Prime
Select Plus, the "Basic" is the most basic but it only includes 1 domain and a limited number of email accounts. I know that for you who are starting it will seem enough but it is not, I tell you from experience.
Once you have selected your package it will ask you to enter your domain name to see if it is available. This will be the one you selected before.
If you have not yet checked the availability of your domain name, you can check it here too:https://www.bluehost.com/web-hosting/domaincheckapi/?affiliate=miviaje
If the name you chose is available it will allow you to continue if it is not, then you may have to go back one step to choose your name.
With the name available, it is time to confirm some personal details (name, address, country, etc.) and see if you prefer to include more things.
The following menu of options basically tells you that you can hire your accommodation for 1, 2, or 3 years. The longer the cheaper.
My recommendation is that you start with 1 year so that you can see and try what it is to create a travel blog, if you like it after the year then I recommend that you pay 3 years in advance to save a few dollars and now if you dedicate yourself fully. This is what I did.
Of all the available options, the ones that I personally suggest at the beginning are Domain Privacy Protection and Backup Pro.
The first (Domain Privacy Protection) what it does is to block your personal information; By legal regulation, once you buy your domain you will have to put contact information such as your email, address, and telephone number and it must be available to the public. If you do not want to receive SPAM emails then contract this option and your information will not appear available. If someone wants to contact you, they will have to contact the provider first, Bluehost in this case, and he will contact you in case it is something important.
The second option (Site Backup Pro) is the one that I recommend the most since it will make a daily backup of your blog, normally Bluehost does a weekly backup of the files but the Pro option allows you to have one daily and specific folders.
Thanks to having this option enabled I have been able to save myself from hundreds of kick-ins that have happened on my blog. If something bad happens I just contact the technical support guys and in less than 15 minutes my blog is working as if nothing had happened.
The rest of the options can be eliminated.
If you select those options, your first year of Hosting, Domain, Backup and Privacy will cost you around $ 144 USD, not bad for your initial investment in your future business.
Step # 4 to create a travel blog – Installing WordPress and designing your blog
If you have already chosen the domain name, it will be very easy to install WordPress because as of today Bluehost allows you to do it immediately after hiring your package.
First they will ask you to create a password for your Bluehost account, the access user will be your domain name. Once the WordPress account is created, it will begin to install automatically and it will first ask you to choose the Design template, I will explain this in a later point, at this time just choose the simplest and free one. You can change it later.
Selecting the Theme will take you to WordPress immediately so you can make some small configurations and that's it.
In case you have not selected your domain or you skipped the part of installing WordPress there is no problem, when contracting your plan you will be able to enter the Control Panel
As of today, it seems that there are different control panels depending on the account you have hired, in my case my account still has the old version but the new accounts already have the new version, I include the image of the new Control Panel. The functions are similar.
Look for the option: Create New Site or if that option does not appear, look for the option " Install WordPress "
Click there and it will take you to a simple installation process, it will ask you where you want to install it, select your domain: www.AventurasdeJuanito.com or whatever you have chosen.
Security tip: The standard user to access your WordPress account is "admin", CHANGE IT, before starting the installation it will ask you for a password, you also have the option to change the user, select the one you want avoiding putting your email or your name.
Once you have WordPress installed on your site, it is time to access it. Normally it is accessed by adding a part at the end (wp-login.php), using Juanito's example it would look something like this: www.aventurasdejuanito.com/wp-login.php
If after following the instructions you still had a problem installing WordPress, you can watch this video on Youtube: Install WordPress on Bluehost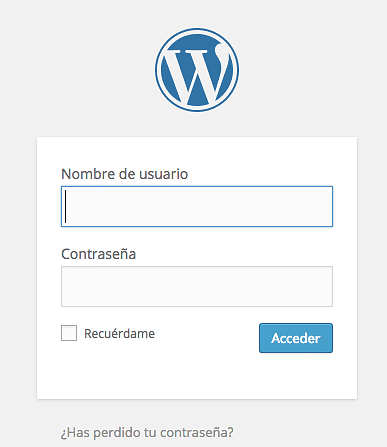 Congratulations, you have created your travel blog.
Once you enter your username and password you will be behind the scenes of your blog. Now is the time to configure it a bit and put an attractive design on it.
You don't need to be a designer to have a good looking blog, you just have to be willing to learn a little on your own.
The general appearance of your blog is determined by some design templates ( Themes ), these templates can be as basic or complex as you want. Initially WordPress comes preloaded with a basic template but you can explore other free options to change the appearance of your travel blog.
My suggestion is, once again, buy a professional design template right from the start.
From this moment on, the learning curve that you will be subjected to is long, especially if you are not familiar with the topic of blogging, but if you are already willing to invest time in learning, do it in a professional way and with all the available options. .
Professional blog design templates will allow you to literally create whatever you want. See the difference between two designs, the basic and the professional, which one would you prefer to start with?
Why do I suggest you start with a professional design when creating your travel blog?
If you are like me, one of those who at first prefer to get their hands dirty to work and learn, then take my experience as an example.
I started my travel blog with a free template and lasted a year it, when I decided to make the switch to a professional template, it took a total of 2 weeks working more than 8 hours a day changing most of the pages and articles that I had written ( I'm still changing a lot of them) and I feel like I haven't finished exploiting the possibilities the template provides yet.
During the redesign of the blog, I sacrificed many other projects and time concentrating on this, if I had created my travel blog with the professional template all year I invested in my blog it would have served me to learn to fully exploit the benefits of having a template professional.
The templates are configured so that they are as friendly as possible, you can easily change photographs, colors, design, etc., they even come preloaded with designs that you can use and basically change texts and photos.
The template that I use in My World Trip and all the other projects I have is called Avada, it is the one I showed you in the previous photo.
It is the best-selling WordPress template, it has a one-time cost of 60 USD. Once you buy the template you can install it and every time a new version is available you can update it without a problem.
If you decide to use another template to create your travel blog, make sure of the following:
Professional support. There are literally thousands of templates available, try to buy one that is endorsed by a large company as many designers after a year or two disappear and the template stops having updates. You can read or see this in the comments or the sales number.
Old. Similar to the above, the companies that have been selling templates for the longest time are perhaps the companies that will continue to sell templates in the future, try to buy one from a company that is old.
Support. In general, these types of templates come with a year of support available, support is not the same as modifications, that is, they will help you in case something "breaks" from your template but they will not necessarily make personal modifications which brings me to next point.
The information available on the internet to modify. The templates that have the most sales are also the ones that have the most information available on the internet to modify. In this case, Avada has complete forums for information and doubts from other users, this information has been invaluable since when wanting to modify something it is likely that someone else had the same problem and already solved it.
Step # 5 to create a travel blog – Installing basic plugins
Remember I mentioned a difference at the beginning between hosting your blog on your own hosting service ( Bluehost ) and hosting it for free? Well, in addition to the design, the difference is in the plugins that you can install.
Plugins are programs or software that allow you to literally do whatever you want with your page. Imagine that you have the crazy idea that every time someone enters to read your blog, it automatically changes color and fireworks appear on the entire screen while background music is playing, as absurd as this sounds, there is probably a plugin that allows you to do that. (Please don't put any of this I just told you, I was just trying to prove a point)
Today there is an immense number of plugins, some free, others paid, and a few based on donations. The most important ones that I recommend installing initially so that your blog works and is protected are the following:
Contact Form 7. A simple way to add a contact form to receive emails and messages from people who are interested.
Related Posts by Zemanta. If someone enters your blog and reads a very good article, you should give others suggestions to read at the end, and this plugin helps you.
Sucuri Security – Auditing, Malware Scanner and Hardening. This plugin helps you protect your blog from hacker attacks, the pro version helps you clean up your blog in case someone has entered and installed a virus or malware on your blog.
WordPress SEO. I will not go into detail on the importance of having a good SEO but let's say that this plugin will help you organize all the information on your site so that Google finds you easier. Look for it to be the one created by YOAST.
WP Rocket. This is a plugin that helps you manage the cache or temporary memory of your blog, without getting into many details, the cache improves the speed of your site. There are other free plugins like W3 Total Cache or WP Super Cache, I have used them but when I tried WP Rocke,t I noticed the difference. The loading speed of my blog dropped dramatically.
As you progress in your experience of having a blog and you need more tools, you can install the plugins that you deem appropriate, but initially, the previous ones are enough.
Bonus tip for creating a travel blog: Create a subscriber list from scratch
The most valuable advice you will receive to have a blog is this: start a subscriber list.
Your audience is really what brings your blog to life and you need to have a way to reach them at all times. You can try to position yourself in Google and appear in the first places but if one day Google changes its algorithm your blog may disappear from the listings.
Facebook and Twitter are excellent forms of communication but every day there are so many changes in the use of social networks and people also change their tastes, one day you can be the sensation on Facebook and the next a Nobody.
The only thing that no one can ever take away from you is your subscriber list. This list is of people who think you have something interesting to say and have decided to give you their most valuable personal information on the internet: their email.
Take care, be aware and protect your list of subscribers because they are the ones who are really your audience.
To create, manage and send emails to subscriber lists there are many platforms, the one I use and recommend is called ActiveCampaign. It has a cost depending on the number of contacts you have, the lowest is 9 USD but I assure you that what it is capable of doing for that price is impressive.
There are many email marketing companies such as Mailchimp or Aweber but I can tell you that I have tried them all and ActiveCampaign is definitely the best of all.
I have already created my travel blog, now what?
Post content. As you learn how WordPress works and create an incredible design on your blog, start posting content. In the first few months, I suggest you publish at least 4 articles per week.
Write articles of at least 800 words (this article is almost 3,000) and publish them. For now, don't worry about optimizing it to appear on Google (SEO), how to get people to read it, or how to effectively promote it on social media. You're just starting out and the only thing that matters right now is creating quality content, LOTS of content.
If you have content, you will eventually start to grow.
As I mentioned in the article on how to make money with a blog, having a blog is something that takes time and effort, you will not have thousands of readers overnight but you will not have them if you always keep your blog in your mind And you never make it happen
Create a travel blog now and start showing the world those places that have amazed you so much.